Welcome to Beaver River Cannabis Friendly Retreat – The Blue Mountains
With access to nearby hiking and biking trails, as well as beaches, Beaver River Retreat is an ideal retreat for those looking to enjoy the great outdoors. At $200 per night, the four-seasons property on the Beaver River includes two guest rooms on the main floor.
Beaver River Retreat is a very private, four-seasons property on the Beaver River, with easy access to many different outdoor sports year-round. We're near to some of the best hiking and biking in the country, numerous golf courses, beaches for fresh-water swimming and fishing in our backyard. In the winter, we're near to Ontario's skiing playground, plus many great snowshoeing and snowmobiling trails.
There are two principal guest rooms located on the main floor.
One room has a King bed, while the other has a Queen bed. Both rooms share a private bathroom on the main floor, and we provide plush bathrobes and towels for each guest. The price quoted is per room, or if the same group would like to book the second bedroom, there's an extra charge of $75pp for up to 2 more people. 20% discount for stays of 7+ nights.
There is onsite private parking for your vehicles.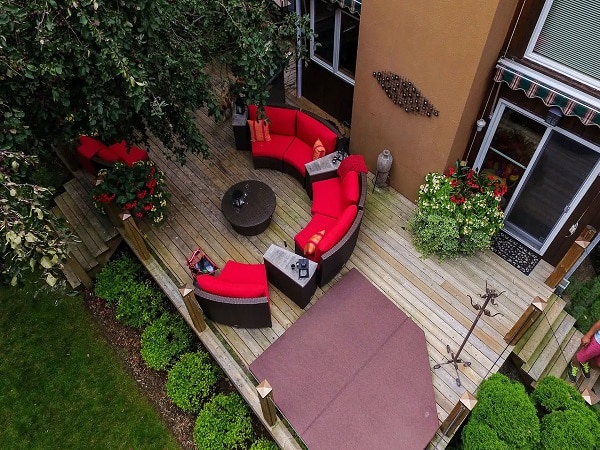 We have a 6-person hot tub and provide with beach towels for each guest. This one-year-old hot tub has the strongest massaging jets I've ever experienced and also has built-in Bluetooth speakers for your music enjoyment.
Breakfast is included in the price.
For lunches and dinners, there are many excellent restaurants and bars nearby. Alternatively, you can choose to stay at Beaver River Retreat and we would be pleased to prepare virtually anything you'd like, ranging from simple munchies to gourmet appetizers and meals – at market rates.
We also have an excellent sound system with a large collection of vinyl records from the 70s & 80s, plus an extensive collection of over 6,000 songs on an iPod, organized into 20+ playlists and genres. There is a vibrant live music scene locally and there are many artists and galleries within easy walking distance in the Clarksburg/Thornbury area.
---
For more information about our smoking policy please check the FAQs.
Please leave your Beaver River Retreat reviews; we love feedback, thanks.