Feature Image – Macro of Organic Romulen by 1964 Supply Co. Photo Creds – Budhub Review Team
Weed grading system Canada, how do you grade your weed?
Currently we have no officially recognized system in place, but there is a method through the reefer madness to help you know what kind of weed quality you are getting from your local cannabis store. Are you getting mid grade weed? Killer BC craft cannabis? or even schwag? As a consumer, how do you know what you are paying for? Do you take your budtender's word for it, or is it all just based on price? Well, the word on the street is "yes" – you do listen to your budtender for call things cannabis.
Our reason for covering this topic is because Budhub.ca receives numerous enquiries regarding the quality of weed they get from licensed dispensaries. How do they know what to look for and how does that relate to the cost of the product? There are confused weed smokers out there that want to know.
And we were curious about what a weed grading system looks like from the street level. What better way to find out if consumers miss the old A-AAAA+ grading system than to speak with professionals from coast-to-coast working with licensed dispensaries, growers, and producers. We particularly focus on Canada's new farmgate cannabis stores because they are our education centers, our producers, growers, and brands, all in one place.
In our modern age of information, along with legalized cannabis in Canada, more of us are much more knowledgeable. But still, there's this gray area surrounding the weed grading system in Canada. We have learned that the cannabis consumer is highly focused on two primary factors when it comes to judging weed quality – THC and terpene percentages. But are these the best factors on which we can judge our weed quality, or is this just the only grading system on offer right now?
So, let's break it all down and draw some conclusions.
Is there an official weed grading system used in Canada?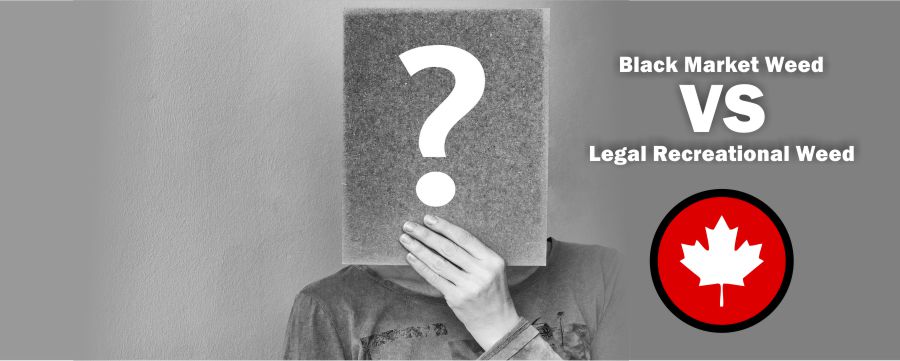 There is no officially recognized weed grading system used in Canada as of November, 2022. Before cannabis was legalized in Canada in 2018, the black market was the only source to buy weed and the A – AAAA was the most common unofficial grading system used. It is still being used to this day in the black market and is one of the most recognized weed grading systems used in North America.
There are some pros and some cons with the A – AAAA system. The main pro is that it's an easy way for consumers to satisfy their expectations and understand quality and price. On the flip side, the main con is that weed quality is subjective, it's perceived differently, and not entirely precise. Nor does it capture the data that lab tests present for the legal weed growers in Canada, more on this later.
What systems are being proposed?
There are several systems being proposed along with training and certification programs. One example, Cannareps unveiled their cannabis quality grading system in 2020 and have worked with Hexo Corp, Boveda, OCS, Muse Cannabis Store, Purple Moose Cannabis, Tantalus Labs, Route 1, and PEI Cannabis.
Leafly.ca, a popular cannabis education site, has their own proprietary cannabis rating system. Their in-house experts rate and review strains based on a 100-point scale. The cannabis first must pass potency and purity standards by an approved lab.
Leafly's 100-point rating scale:
95-100: Extraordinary (an exceptional expression of cannabis genetics; a true top-shelf flower)
90-94: Amazing (cannabis with remarkable characteristics)
85-89: Great (a flower with special qualities)
80-84: Good (a solid, well-grown flower)
70-79: Respectable (an enjoyable flower that may have minor flaws)
0-69: Unremarkable
Another system is the OG Rating Guide created by Marty Wig, co-founder of Overgrown Gardens. He has been grading cannabis since 2003 and refined the old-school grading system to meet the needs of today's consumers. This new version has evolved from four tiers into a 100-point scale – the OG Rating Guide. To be considered "good weed" (aka AAAA status), a product must score at least 80 out of 100 points.
The current weed grading system being used in Canada – results from our research.
Well, its subjective. It's all based on what your budtenders tell you. As previously mentioned, there is no recognized legit weed grading system used in Canada when it comes to legal recreational and medical marijuana.
Our review team set out to get the word on the street and asked all about the weed grading system Canada and how it's described and used in the real world. We interviewed retail cannabis stores, farmgate stores, and cannabis brands from coast to coast. The feedback and enthusiasm we received was righteous. The budtenders, store owners and expert growers spoke passionately about this topic and we found that there were several commonalities among the verticals.
Interview highlights.
E.C.O. Trading Post and Eco Canadian Organic Rexton, New Brunswick
Denise, co-owner, is awesome and hyper passionate about her products and she spoke to me about the weed grading system Canada and how it relates to product quality and THC levels.
Denise did not think a weed grading scale is a good idea because of the many variables that determine quality. I asked if organic cannabis commands a higher price and she said that the organic space does not command a higher price and that they are selling at the same price cannabis that is not certified organic. It's a myth that growing an organically certified product is more expensive.
Eco Canadian Organic uses the purest inputs consisting simply of living organic soil and artesian well water and they are getting incredible THC percentages of over 30% THC. There is no one in Canada growing the same way and achieving the THC levels that they consistently achieve. They are interested in producing the purest product possible thereby achieving the healthiest product possible.
There are so many variables that can affect quality, but it seems everyone is looking at THC percentages. There is the smoke, moisture, water, the producer's attention to details, how it's grown. Quality is subjective. And to Denise it means having the cleanest and most consistent product.
Station House Farmgate Store, St-Thomas Ontario
Brendan S, General Manager of the flagship farmgate store remarked on the current flower quality rating system in Canada, "In today's market, there is no standard for grading recreational dried cannabis."  Prior to legalization of cannabis, the legacy market functioned on a non-validated 4-star scale (A, AA, AAA, AAAA) to identify flower quality – a system not recognized or adopted by Licensed Canadian Producers.
Brenden and his team lean on knowledge and experience to guide customers to products that meet and exceed their needs. With thousands of options available in multiple categories, a "one-size fits-all" cannabis product doesn't exist. The Station House team understands the importance of fair pricing and consumer transparency when discussing THC, CBD, and terpene concentrations. Keeping staff educated and informed is a commitment from Station House delivering customers the very best products at affordable prices.
Dank Cannabis Calgary
Carly thoughtfully took time out to answer my questions and she turned out to be very knowledgeable and helpful, one hell of a Danktender! The first thing she said to me when I asked her "do your customers ask about weed grade? She quickly replied "If it's stinky, its terps" and said that their customers don't ask about grade, but want to know about quality, terpenes and THC percentage. She pointed out that the top 3 terpenes are normally listed on the packaging, but when you see a full list, you know it's gonna be stinky. So that is how cannabis is graded and recommended in some parts of Alberta.
Kootenay Cannabis Niagara Falls
The #1 question from customers regarding weed quality and grade is always THC content – manager, Jeff Thiessen
We spoke with the manager, Jeff Thiessen who said that the A-AAAA grading system is from the black-market days and there is no universal standard on the legal cannabis side. It is up to each store individually to rank the quality of each strain. The #1 request on the customer side is always THC content. They want the best bang for the buck – highest THC for the best deal. Sometimes the product description will dictate a certain quality that commands a higher price (craft, small batch), some brands will list their batch as colas only that is the highest quality which will also command top dollar.
When an LP/brand lists their terpenes on the package, which is over and above having to legally list THC/CBD content, it can be considered higher quality, because they took more care, spent more money to do the extra analysis. He also mentioned that organic cannabis is not requested as much in Niagara Falls.
Jerry's Cannabis Lake Cowichan, BC
I visited this dispensary and bought their best strain on the shelves recommended by the budtender – organic Romulen by 1964 Supply Co. It wasn't busy in there, so I asked about the weed grading system used in Canada and if people ask her about weed grade or not. She quite frankly stated, nope, nothing, no one ever asks about the grade or about A-AAAA weed. They ask about their experience with the cannabis brand/strain, and how smooth it is. She also mentioned that in BC people ask for organic quality cannabis. When asked if high THC percentages mostly determine the price, she responds – it depends on the brand, its reputation, and if the weed is organic or not.
The top takeaways from the interviews.
We interviewed about 20 more dispensary owners, budtenders and growers and the results mostly all boiled down to the same conclusion – it's subjective. There are too many variables to formulate an accurate and reliable weed grading system to be used in Canada. The modern cannabis consumer expects their local budtender to know everything when it comes to weed grade and quality from the best brands.
The most common questions consumers ask are related to THC content, CBD content, terpene profiles, and whether it's organic cannabis and/or craft cannabis. No one asks anymore if the weed is AAA grade (trips) or AAAA weed (quads), that grading system is fading away and lingers only in the black market and with old school stoners.
At the end of the day, the current weed grading system being used in Canada is, well, your budtender. He or she will ensure that you get the biggest bang for your buck, so take their advice and get that perfect strain that fits your mood or medicinal needs and budget.
How do you grade weed quality?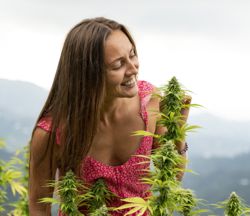 Now that you have been brought up to date on the current weed grading systems used, the true question is, how do you grade weed? This is most important because you are your own best judge. Strain types (Indica, Sativa, Hybrid) affect everyone differently and for example, if you are a weed snob like me, then you will have varied opinions based on personal experience of the strain in question.
Everyone grades their weed based on personal experience and bag appeal, and everyone brags or complains to their friends and families about said weed and if it's memorable or not. So, it's vital that our own weed grading system is true to ourselves to help achieve that perfect high we all seek. It's also vital to share the good vibe or an unpleasant experience, it goes a long way when it comes to where your brand loyalties are and enforcing our own weed grading system through word-of-mouth marketing.
If you are wondering what to look for in good weed, here are a few tips so you can be sure to ask your budtender more informed weed related questions.
What should I look for in good weed at my local cannabis store?
Bag appeal or appearance (structure, density, trim quality, trichome density (crystal coating)
Potency (lab tested result, THC levels, CBD levels)
Terpene profile (lab tested result, did the brand go over and above and list more than just the top three)
Does it burn smoothly with a clean white ash (subjective, ask budtender if they smoked it)
Aroma and flavor (subjective, ask budtender)
The reputation of the cannabis brand (consistent product, corporate transparency, consumer trust and social responsibility)
How can you help the cannabis community grade weed?
By leaving reviews of your favorite cannabis brands and strains. Whether good or bad, our subscribers want to know to help them make a better informed decision for their next weed purchase. Find a cannabis brand and leave your review.
In conclusion.
So how do we define weed quality? The answer is not definitive but mostly subjective much of the time. A standardized weed grading system in Canada will eventually materialize, even if only for the purpose of scientific research and their need for quantitative data. So much has changed since the legacy days of cannabis in Canada, with new opportunities to collect data, methods of analyzing the product, and reporting conclusions. All of this is information that we eagerly consume. A standardized weed grading system will emerge that incorporates the best of the old and new techniques.
We think that government should be responsible for implementing a standardized classification system. They have the monopoly, resources and authority to define the new industry in regards to weed grading in consult with LP's, the retail sector, labs, the scientific community, and interest groups.
---
Continue reading.