Kelowna, located in the heart of British Columbia, is quickly becoming one of the best destinations for cannabis tourism in British Columbia, and Canada for that matter. With its stunning natural beauty, rich weed culture, and relaxed vibe, it's easy to see why so many cannabis enthusiasts are flocking to this city for a high times adventure like no other.
This activity guide explores some of the best things to do in Kelowna that are cannabis related. I'm talking about 420 friendly rentals, cannabis bus tours, the best restaurants to satisfy those munchies, and so much more. But first, let's learn more about Kelowna's weed culture.
Here are some of the top cannabis related activities to enjoy during your trip to Kelowna.
Rent a cannabis-friendly accommodation.
Canna tourism in Kelowna wouldn't be the same without Hotel Zed. To help ensure that you have the best cannabis experience during your stay, consider staying in a 420 friendly hotel or resort. Your canna vacation starts with this: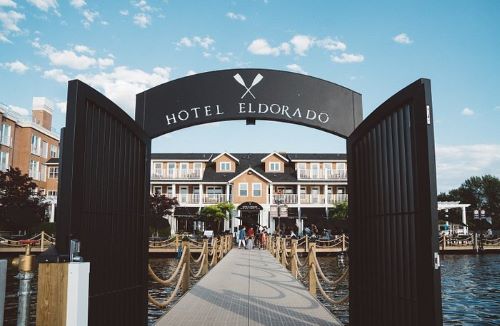 Eldorado Resort
Discover Eldorado Resort in Kelowna – the ultimate lakeside getaway. Proud to offer designated consumption spaces on-site, including a rooftop patio and lakeside spaces. Located in the heart of Kelowna, Eldorado Resort (circa 1926) is the perfect destination for those looking for a luxurious lakeside escape. With its stunning views of Lake Okanagan, enjoy the […]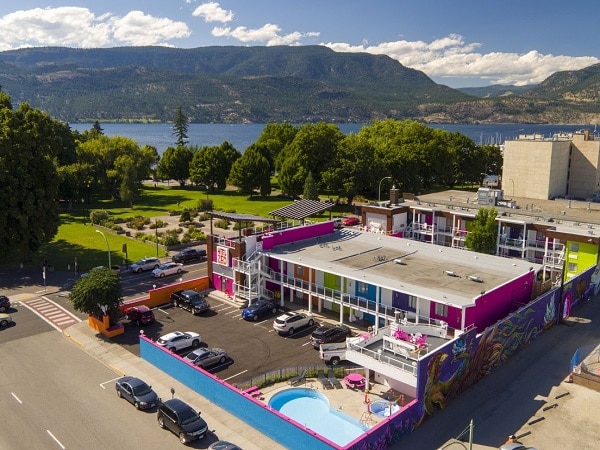 Hotel Zed Kelowna – 420 Friendly
Welcome to Hotel Zed Kelowna – 420 Friendly Boom! Right smack dab in the heart of all the action is Kelowna's Hotel Zed. We're just one small block off Bernard, the city's bustling and historic main street that's full of eateries and boutique shops. We're also just one small block from the Downtown Marina that has skidoos, wake boats, […]
Go on a weed tour.
If you're interested in learning more about the local cannabis industry, consider taking a tour and see for yourself what it takes to grow some of the best cannabis in BC.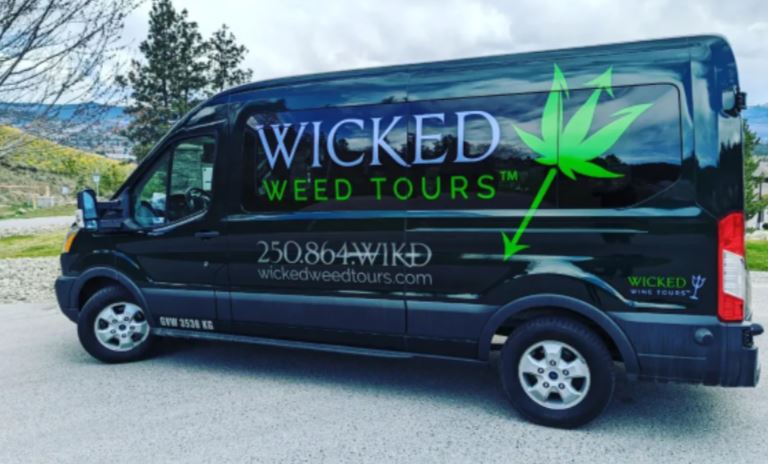 Wicked Weed Tours Kelowna
Wicked Weed Tours is now offering fun and educational tours in Kelowna. Wicked Weed Tours has made it our business to champion everything that makes British Columbia – and the Okanagan Valley as a whole – the most special cannabis region in Canada. The unique landscape and the enormous amount of sunlight in summer make […]
Go check out the local vibe at Kelowna's excellent dispensaries.
Why not go and talk to some of the city's cool budtenders. They know what the best weed is – based on your preferences. And pretty much anything else you want to know about how and where to enjoy cannabis in their city. You could ask stuff like, what is the best strain for a hike? And then ask where are the best hikes located?
One of the top dispensaries in Kelowna is Dutch Love. They offer a wide range of high-quality products from local and regional brands including flower, edibles, concentrates, and more. Dutch Love prides itself on its knowledgeable budtenders, customer satisfaction, and welcoming atmosphere.
No matter what you're looking for you're sure to find it at one of Kelowna's top dispensaries. These dispensaries are leading the way in the BC cannabis industry, making Kelowna a top destination for cannabis enthusiasts from around the world.
Make sure to ask your budtender about options for the best weed from local cannabis brands.
Why not sample some local weed the Okanagan produces and get a true taste of Kelowna. Your options can include any grower/producer in the Okanagan Valley. Here are some of my favorite craft cannabis brands that are based out of the local area.
Explore Kelowna's parks and beaches.
The Kelowna area is home to a number of breathtaking parks and pristine beaches where you can go for a casual hike or more of a challenging one if that's your thing. Take advantage of these natural resources and go for a run, or mountain biking, even birdwatching. Photographers are also seen throughout the parks capturing the natural beauty of the area in all seasons. After your excursion, you could enjoy a cannabis-infused picnic and take in the natural beauty of BC.
Some popular spots include:
Hike Christie Falls (for the adventurous)
Strathcona Beach Park
Sarsons Beach Park
Knox Mountain Park (dog friendly, the Apex trail is a great hike)
Experience the restaurants.
When you're looking for a foodie destination that's sure to satisfy your munchies in a fantastic way, then look no further than Kelowna's restaurant scene. The city offers something to suit every palate and craving. Whether you're in the mood for a classic burger, some spicy Thai food, or a healthy vegan bowl, you'll find it all in Kelowna.
It's also a great destination for stoners looking for a more upscale dining experience. One of the top restaurants in the city include Waterfront Wines, that features farm-to-table cuisine by chef and Sommelier Mark Filatow.
Here are 16 funky restaurant suggestions to check out for a unique dining experience.
It's 420 all the time, so come hungry, and get ready to experience the incredible food scene in this amazing city!
Smoke some BC bud and go on a wine tour.
Fun! If you're a wine-loving weed enthusiast looking for the ultimate high times experience, then a wine tour is perfect for you in Kelowna. This city is known for its incredible wineries and vineyards, with some of the best wines in Canada.
A wine tour in Kelowna is a must-do experience, with a wide variety of tours available to suit every taste and budget. Whether you're looking for a leisurely bike tour through the vineyards, or a more upscale private tour with a sommelier, you're sure to find the perfect venue.
One of the top winery adventures is Westside Wine Trial  located in West Kelowna, which offers memorable wine touring experiences for visitors to the area. With a wide range of award-winning wines and with lots of events throughout the year to help keep the vibe alive.
But a wine tour isn't just about the wine – it's also about the high times experience! Imagine strolling through the vineyards sharing a joint with that special someone and sipping on some delicious wine while taking in the stunning natural scenery. It's the perfect way to relax, unwind, and enjoy all that Kelowna has to offer.
I say, "come for the wine, stay for the high times".
A Look forward into Cannabis Consumption Lounges in Kelowna.
Here is something that we all can look forward to – cannabis vape and smoking lounges. That's right, the BC government is currently deciding on the next steps and being that BC has a progressive approach to everything cannabis, I hope to see legal lounges in Kelowna and in the rest of the province by the end of the year, or next year. It's expected that BC will be the first province to allow cannabis consumption lounges, so let's help blaze a trail and support the movement.
Conclusion
With so many things to do in Kelowna, I think we can all agree that cannabis consumption just makes those activities more fun and memorable.
Kelowna is quickly becoming one of the top destinations for cannabis tourism in BC. With its thriving cannabis industry, beautiful natural scenery, and laid-back atmosphere, there isn't a weed lover out there who would disagree. There are plenty more fun and exciting ways to enjoy your high times experience in this beautiful city, all you have to do is get creative.
So pack your bags, and get ready to experience the best of what this incredible city has to offer!
Cheers,
Anna Gray